MT. Denali 2018 - My 4th Attempt: "Never Quit Attitude"
MT. Denali 2021- My 5th Attempt: "Never Quit Attitude"
I'm been training hard to get my body into tip top shape. Doing extensive weight training, running, mt. climbing and weekend trips to events (eg. skydive out of airplanes, skiing black diamonds, etc.) any thing to conquer my fear of heights after falling into a crevice back in 2018! 
Show Up and Suffer!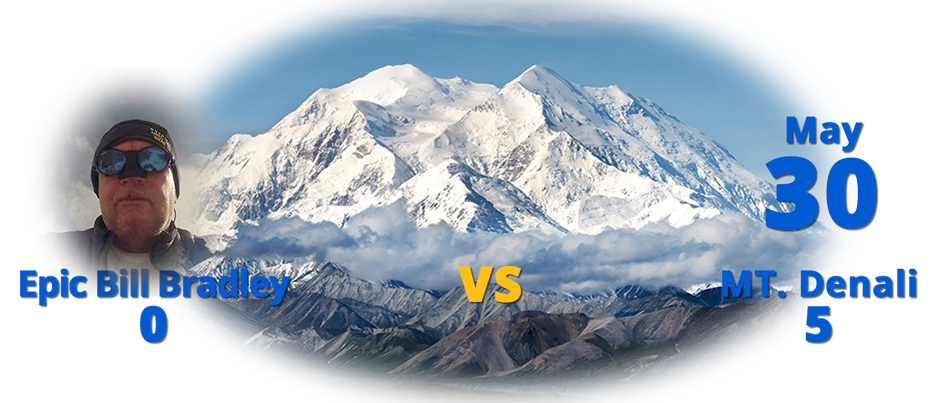 Denali Climbing Statistics
The NPS has recorded 123 fatalities on Denali since 1932. The most common cause of death is climbing falls, followed by exposure, avalanches and acute altitude illness. "It's a very rigorous climb,"
Success rate on Denali is around 50 percent.

Denali is one of the 11 hardest, most dangerous mountain to climb in the world. 
Denali Map Tracking and Update Status

Our team's goal would be for me to cross the Grand Canyon Rim 7 times continuously and set a new world record.
Arguably one of the most inspiring versatile extreme endurance athletes in our time, Bill Bradley undertakes the most challenging endurance sporting events in the world. He craves improbable challenges set against nature's unforgiving scenarios. The average age of an extreme endurance athlete is 35 years old. Bradley, now 58, stands alone yet he continues to take on grueling events around the world and continues to amaze his fans with many completions. 
We are actively looking for Sponsorship for our many up coming event schedule in 2019. In our last event "MT Denali 2018", we garnered over 1.2 million views on (2) of the (6) videos documenting the climb, with a watch time of over 3 minutes per/view on our YouTube channel.
An amazing man​
I met Bill today in Salisbury, England at a train station waiting to go home on leave from the army. We ended up speaking to the very point we had to go our separate ways. He is a great guy and unique. The stories he told me had me in awe and left me amazed. Bill you are a fantastic character and it was a pleasure to have met you. Hopefully our paths cross again some day.
Epic Bill...true to his nickname
I too am an endurance athlete but a thimble size fraction ...of your epic performances!!! Love the motivation that you produce for me and countless others
Thank-you!
That was a lot of fun Bill! You are one tough cookie!
Amazing Bill
Amazing! I had no idea!!
Absolutely Impressed
Even though I have heard about these epic events (ordeals) before, I was totally into your talk. So was everyone else!!! Super impressive!! The talk elevated the already epicness even more...!!!!